Nobody has more "moving" art than Baltimore! Want proof? This Saturday, May 5, the 14th annual Kinetic Sculpture Race from the American Visionary Art Museum pits human-powered works of art against one another in a grueling race across land, through mud, and even through the waters of the Inner Harbor. Constructed from a multitude of spare parts, these peddle-powered pieces of art can be piloted solo or by a team. Pilots (Kinetinauts) compete for the most coveted "Mediocre Award" (given to the sculpture that finishes in the middle) or the highly prized "Next-to-the-Last Award," as well as more serious prizes, like best-of Art and Engineering.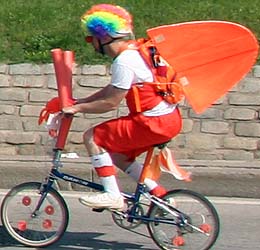 After the opening festivities (including the "Blessing of De Feet,") the race begins at 10am in front of the American Visionary Art Museum. The race is free for spectators anywhere along the nearly 15-mile course, which takes the participants through Federal Hill, Patterson Park, Canton and more.
Check out the Kinetic Sculpture Race on AVAM's homepage or follow along with their social media profiles below.
American Visionary Art Museum
800 Key Highway
Baltimore, MD 21230
Neighborhood: Camden


If seeing is believing, have a look at this Kinetic Sculpture Race preview from the AP:
Source:
avam.org